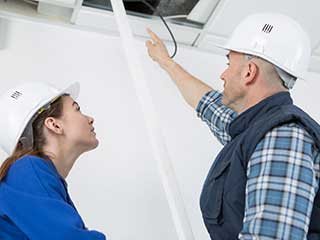 Don't Let It Deteriorate
No matter how much work you put into your household to make it look gorgeous, if the ceilings have cracks or dents in them it won't be of any use. Damage may occur over time despite the sturdiness of ceiling drywall due to leaks or even rodent troubles, but no matter the cause we'll be able to get it taken care of right away. Rather than let the problem worsen, or even run the risk of parts of it falling down, it's best to let our technicians tend to it now rather than later.
Fast & Thorough Smooth Ceiling Repairs
We'd be happy to get your ceiling back to their former quality and smooth looks before you know it! For safety, we'll first always make sure that there's no wires, pipes, or studs in the area so nothing gets cut into by accident. Our experts will also determine how far the damage runs exactly, so we only need to remove as little of the original drywall as possible. Once the problem area is taken out, we'll cut new drywall that matches the same thickness to the right size and install it into place using drywall screws. Specialized tape and compound is used to seal up the joints, and once that dries it can be smoothed down with sanding. All that's left at that point is to prime and paint!
We Also Repair Textured Ceilings
While it takes a little more work to do, we'd be happy to! All this means is that before we begin repairs, the textured paint will need to be removed with scraping so that there won't be any discrepancy with the texture. After the repairs are done, we'll used a roller with a special textured sleeve to reapply the look your ceiling originally had. That way there won't be any way to discern the new spot from the old!
Let Us Help Today
Why leave your ceilings looking like a mess when Drywall Repair & Remodeling Hollywood can fix them in no time? Call now!
Want more? Let us take care of:

Texture Ceiling Repair

Tile Installation On Concrete

Drywall With Vapor Barrier

Popcorn Ceiling With Soarkle