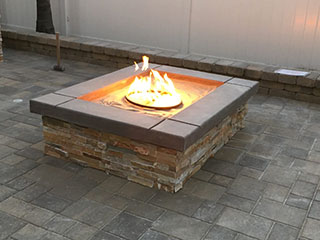 Furnishing your lawn, patio, or garden is almost as important as it is indoors. Landscaping can give you a ton of outdoor activities and comforts. Some of the most useful features you can get are outdoor heating. Interested in entertaining guests or just sitting down with your family outdoors? A patio fireplace makes this a much more comfortable experience. It lets you do it even when it's wet and chilly. Ever wished you could barbecue more easily? Add a fire pit table to your Hollywood property, and you can cook outside to your heart's content. With outdoor heating features added, your backyard can get a major upgrade. Both aesthetically and in terms of utility.
What Is Outdoor Heating?
The short, silly answer is "any artificial outdoor feature that provides heat." To be more practical, there are two basic types of outdoor heating. Electrical heating, like radiators or heating lamps, is one type. Fire pits and outdoor fireplaces are the other. When discussing the second type, there's usually another purpose to the feature as well. Fire pits have more cooking space than your usual portable grill. They also give you something to sit around while cooking and eating. The type of outdoor heating features you choose should depend on what you plan to do outside. Install an outdoor fireplace in your Hollywood patio and enjoy warmth and comfort even on chiller days. For cooking, you can get paver fire pits, with all sorts of fireproof measures for comfort and safety.
Patio Fireplaces and Wood-based Fire Pits
There's something about the crackle of burning wood, isn't there? Wood fire pits and fireplaces are the classic variety. These outdoor fireplaces are cheap and low maintenance, as well as adaptable. A fire pit that uses wood can handle charcoal and other solid fuels just as well, after all! The downsides of a wood-based fire pit in your Hollywood patio are the work involved in using it. That and the sensitivity to weather conditions. If your outdoor fireplace or pit uses wood, you'll need somewhere to store that wood. You'll also need to carry it to the fire to use it, which may or may not be your speed. A wood fire pit's fuel is also vulnerable to getting damp and rotting, especially if you don't have dedicated storage for it.
Gas-based Fire Pits and Fireplaces For Outdoors
Natural gas is the other option for Hollywood patio fireplaces and backyard fire pits. A propane fire pit is easier to use since you just have to turn the valve and press the button. An outdoor gas fireplace doesn't need any heavy lifting, and your propane fire pit should do fine in the damp as long as it's covered. On the other hand, gas tanks are dangerous if not properly handled, so make sure you have a safety-conscious expert installation! Feeding a propane fire pit is a bit more expensive than wood or coal, though it's easier on your back and requires less storage space. As you can tell, each option for outdoor heating comes with different pros and cons. Finding the right feature for your property is simplest when you consult with experts.
Hollywood Outdoor Heating Contractors Near You
Trying to decide between a wood or propane fire pit or whether your porch can accommodate a patio fireplace? You can get advice, guidance, and free estimates from our local Hollywood remodeling contractors. We provide custom outdoor heating features as part of our general hardscape landscaping services. Options include everything from outdoor gas fireplaces to electric heaters. Schedule a free consultation and get professionals to introduce you to the wonderful world of outdoor heating features for decks, patios, and porches!