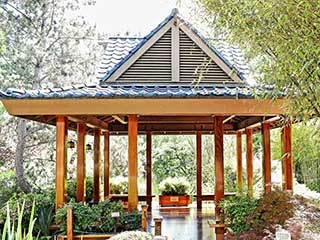 There are few better additions to a deck or patio area than a gazebo or a pergola with a canopy. A beautiful patio shade structure does more than just shelters you from the sun and rain. It blends in beautifully with your home's design and aesthetics. Wood gazebos look beautiful, and our range of high-quality custom outdoor shade structure designs ideas can help you find the ideal addition to your Hollywood property. Cedar pergolas are gorgeous, and allow you to easily improve the looks of your backyard or porch area. By combining amazing aesthetics with a hugely versatile range of helpful functions, our outdoor shade structures can improve any landscape design and exterior décor. Now combine them with motorized canopies for decks and patios, and you've got utility and aesthetics in one great package.
Hollywood Patio Gazebo Builders
Custom designs for all your wood gazebo needs, that's one of the service avenues we provide. Our local deck contractors appreciate there's almost no limit to the range of outdoor shade structure design ideas you can create for gazebos. Whether for patios or decks, these shade structures can flaunt all sorts of designs and styles. Gazebos with walls are just the starting point. A wood gazebo can come in many different shapes and sizes, with many customization options. You can pick different types of wood and other materials. From composite to beautiful tigerwood and solid oak or redwood. Gazebos for Hollywood decks or patios can provide more than design additions, naturally. This type of shades structure gives you a great place to enjoy the outdoors with proper cover from harsh sunlight and other elements.
Custom Gazebo Features
The outdoor shade structure you're looking to add to your deck or patio can sport all sorts of additions. These can present merely an aesthetic contribution or something functional too. How about a gazebo with lights built-in? This means you'll never have to head in when the sun goes away. What about a gazebo with mosquito netting, so you and your guests don't have to worry about getting bitten? Combine all of these elements to your heart's content with our custom designs for all patios. 10 x 10 or larger, smaller, or any other variation you have in mind. Our experienced deck contractors can handle all these projects.
Top Quality Pergolas With Canopies (Motorized)
As one of the most popular types of outdoor shade structures, pergolas have all sorts of builds. Do you have a pergola idea in mind? Our team can help you bring it to reality. Cedar pergolas have become quite popular, but they are certainly not the only design available. Many Hollywood property owners decide to combine the beauty of pergolas with effective sun protection. A pergola with a canopy, motorized, or one that's attached, can prove the ideal choice. Pergolas with canopies allow you to quickly get out of the sun when necessary. You can even make this design more convenient by choosing a motorized pergola canopy. With nothing more than a push of a button, you'll get shade on demand. We work with Somfy motors and Wi-Fi remote controls to bring customers state of the art motorized canopies for pergolas, decks, and patios.
Custom Patio Outdoor Living Features
Gazebos and pergolas are some of the most popular additions to decks and patios in the local Hollywood area. However, there are plenty of amazing options that we offer. How about entertaining at home with an outdoor kitchen? This is the perfect focal point for any evening's entertainment. If you have a deck, we can also install an integrated deck pavilion. This seamless design is the perfect way to protect against sun and rain while keeping your home looking great. Add a BBQ island to your outdoor kitchen setup and maybe a brick fire pit too and you're good to go. Throwing cookouts is fun, but safety is paramount. Our fireproof paver fire pits and paved outdoor kitchen sets let you dine outside with style and safety.
Custom-Built Outdoor Shade Structures – Free Quotes
When you want to upgrade your deck with a new pergola with a canopy, or other structure, our local contractors stand ready to help. Our low prices on all patio gazebos and pergolas and our wide range of design choices make us the no.1 choice around. Not to mention the custom-built outdoor shade structures, where you get to pick everything from design to materials and additional features like motorized canopies, lights, netting, and more. Our local Hollywood pergola and gazebo builders give free estimates on all services. So get in contact with us to book a free consultation appointment and see all the wonderful options you can choose.