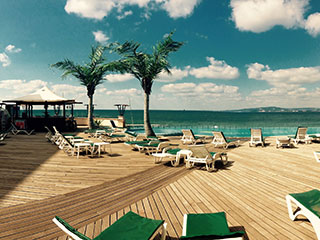 Many people love the textured beauty of wooden decks. However, those tend to cost a lot and require lots of maintenance to stay aesthetic and functional. With composite Trex decking, you don't have to worry about either. You save money by paying less, but you get a lot more. Trex decks can flaunt the rich texture of materials like Tigerwood and Redwood. However, they consist of composite materials. Therefore, they don't need regular repainting and recoating on the same regular basis that wooden decks do. You've got all sorts of features you can get with your custom-built composite deck. Start by getting a free estimate from our local Hollywood Trex decking contractors to talk about all the options.
Beautiful & Durable Trex Decks
The aesthetic of your deck goes a long way. It stands as part of your landscape design and can become an attractive centerpiece, or an eyesore. Trex decking can sport some beautiful smooth looks that make it captivating. Combine that with various features like ornate Trex railings or pergolas, and you've got something that really catches the eyes. But how strong and durable will it stay? Well, unlike wood, composite Trex decking stays resistant to damage and the elements all year round. It naturally resists moisture and repels instincts, making it an excellent investment at a very affordable cost. You can improve your Hollywood backyard patio quite a bit with custom-built Trex decking added as an extension or replacement.
Above Ground Pool Trex Deck Designs
Many people love the lavish look of a pool deck standing up above ground. Kind of like a small Jacuzzi, or something larger. An above-ground pool deck made from composite materials like Trex offers you an excellent waterproof solution. You can get the Trex decking made with extra texture to add a non-slip surface around the above ground pool area. The Trex deck color choices leave a lot of room for creativity in design and can complement all sorts of exterior décor choices.
Composite Decks With Outdoor Kitchens
Any area where you have to cook and prepare food can see all sorts of liquids and oils splashing around. With wood, those can become a major hassle to clean. However, the moisture resistance of Trex decking makes it excellent for an outdoor kitchen spot. The Trex railing can create a section of BBQ island and grill, complete with a food preparation station and an overhead deck canopy for shade. This makes Trex decking great to add utility to your Hollywood property. Outdoor kitchen cabinets and seating arrangements can all complement the décor and aesthetic of the Trex deck with ease. And again, design options aplenty become viable options that way.
Book Free Estimates!
See the fantastic variety of designs that Trex decks can sport and talk to our local contractors about various features. We offer top-quality custom Trex decking for Hollywood homes and businesses alike. So call us anytime and set up your free consultation to learn more. We also offer customers Trex outdoor shade structures and other deck features. So talk to our experts on any patio extension or deck-related service you're looking for.