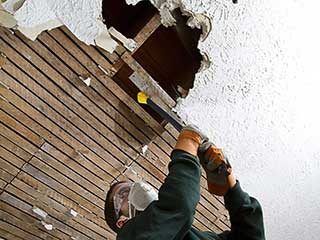 Do I Have Popcorn Ceilings?
Popcorn, or stucco, ceilings are so called due to the texture consisting of small bumps that look rough and jagged in nature. The style was popular in the 70s and 80s because it would easily hide small issues such as dents or otherwise so the builder could avoid needing it to be perfectly smooth. It also worked as another layer to muffle sound. However, in modern homes there are much more enticing ways to address these issues which is why it's no longer utilized.
Why Should I Remove Them?
Popcorn ceilings, as previously mentioned, are certainly no longer the look of modern homes. No matter how hard you've worked to cultivate a specific, gorgeous look for your household, it will undoubtedly be undermined by these types of ceilings. If you want to sell eventually, you may have a hard time as well due to the lack of interest in them. Yellowing is common with popcorn ceilings, especially if moisture is involved, and some may even be made with asbestos if the home was built in the 70s. Whether the concern is health or aesthetic, it's overall best to just get rid of them!
We'll Handle It All For You
Allowing the experts to take care of this service is certainly for the best, especially due to the fact that asbestos could be involved and is highly dangerous if breathed in. We'll first test to determine whether or not it's present so we can take extra precaution if so for safety's sake. In either case, the room will be covered with plastic so there won't be any mess left over once we're finished. There are two different removal methods depending on whether or not the texture is painted. Unpainted texture can be removed using water to dissolve it, while painted has to be dry scraped off by hand. Once completed, we can then sand and smooth the substrate before it's primed and painted.
Contact Us Now
Call Drywall Repair & Remodeling Hollywood for our fantastic services!
We do so much more!

Drywall Ceiling & Wall Joints

Basement Ceiling Drywall Repair

Drywall Hole Repair & Painting

Asbestos Popcorn Ceiling Removal