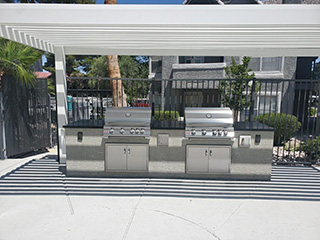 An excellent setup to add to Hollywood patios and deck areas, outdoor kitchens provide more than an aesthetic tag. Sure, they can really elevate the look of this outdoor courtyard or decking, but there's so much more. Like actual utility. Outdoor kitchens provide a very functional way to prepare, cook, and eat outside. Whether as a family or any social gathering, a custom-built outdoor kitchen in your patio or on your deck provides a fantastic way to entertain guests and enjoy the outdoors with all the utilities you need.
Counters & Tabletops for Patio Kitchens
You'll want to have something to prepare food on and something to eat on, right? Well, you've got quite a range of choices for that. Stone countertops for outdoor kitchens provide a very strong and rigid surface area, both for eating and food preparation. You can also choose various types of wood or composite deck tabletops. Again, for the dining experience or just to chop and slice vegetables on. Our custom-built outdoor kitchen designs include tabletops and/or countertops in a variety of styles to suit each customer's preference and budget.
Hollywood Deck Kitchen Cabinets
Let's talk about storage space for a moment. We're not talking piles and piles of cardboard boxes, but rather useful stuff you need in your Hollywood patio's outdoor kitchen. Plates, bowls, and general utensils and other tableware can all stay in outdoor kitchen cabinets, ready for use at a moment's notice. This saves you the hassle (you don't need to go back inside to fetch things you forget). You can also store condiments, dry goods, and we can also build a custom place for a refrigerator, complete with electrical outlets with weather protection.
Outdoor Kitchen Features & Utilities
Just like indoors, you need to have a variety of utilities available to you in your outdoor kitchen. From a sink to wash vegetables in to gas stove infrastructure and grill stations, not to mention electrical outlets to plug things into. We build custom outdoor kitchens for Hollywood area properties complete with any feature or utility you, the customer, needs. To maximize your use of the outdoor kitchen, you need all the utilities an indoor one has. With water features, electricity, and gas for your outdoor kitchen setup, you're good to go whenever you want.
Patio Kitchen Fire Pits & Grill Stations
Cooking with fire or on a grill offers a lot in terms of enjoyment and taste. Many customers choose to have us build them custom grill stations in their outdoor kitchens, to have all the utilities and space set up to work with built-in grills or portable ones. We also offer customers to build paver fire pits adjacent to the outdoor kitchen. That way, you can prepare all the food and immediately start roasting it over a flame. Whether you've got a patio or a deck, outdoor kitchens offer the perfect setup to maximize utility, landscape design, and most importantly – fun! Arrange for your free in-person estimate from a local Hollywood outdoor kitchen contractor near you today!