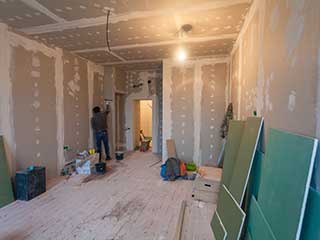 One of the most famous neighborhoods on the planet due to its association with the film industry, Hollywood is also a working part of Los Angeles that many people choose to work and live in. If you are a local resident, or you simply own property here, you may be in need of basic drywall repair services from time to time. This can be due to any number of reasons. Perhaps you noticed wall cracks that need to be plastered over, or maybe you started smelling something musky and after a quick inspection found mold growing on some part of the ceiling. Whatever the reason, if you need some type of assistance, our team at Drywall Repair & Remodeling Hollywood is here to help.
A Few Different Approaches
To begin with, you should think about whether you want to have the old drywall sections removed and rebuild the area with new panels, or if you want us to try and patch up the existing material. What will influence this decision is mainly the extent of the damage.
Breaking It Down
Minor holes and breaks can be fixed relatively easily, usually by patching them up with the use of joint compound and sometimes tape as well. Once the gaps have been sealed and the area was flattened and smoothed out, the area can be painted and added texture that will make it seem a natural part of the rest of the sheets. On the other hand, major problems will need to be removed entirely. To use mold as an example again, because of the fact that this fungus uses spores to spread, removing just the visible affected area isn't always enough, and residues of it may still remain afterward. Those can gradually develop to colonies of their own, which will result in the need for more repairs later on. Getting rid of the entire panel in a single time and hanging new sheetrock in its place will be the better solution in the long run.
Regarding Drywall Replacement
When you're just starting out with home renovations, chances are that you'll need to consider using drywall. This material can be used to add extensions to existing walls, to mold new features in a room, such as an archway, or to divide a large existing space into smaller individual rooms. Our team will help you draft professional blueprints, in order to present a visual record of the plans for the project. We can also offer you different types of wall coverings, to be applied after the drywall installation work is completed. This includes brick, vinyl, fabric, or colorful wallpaper, all of which can give your property's interior a unique finish. Give our team a call if you need to have some part of your wall or ceiling fixed or replaced.
We also offer:

Tile With Wire Mesh

Drywall For Garage

Plaster Ceiling Repair

Acoustic Ceiling Repair